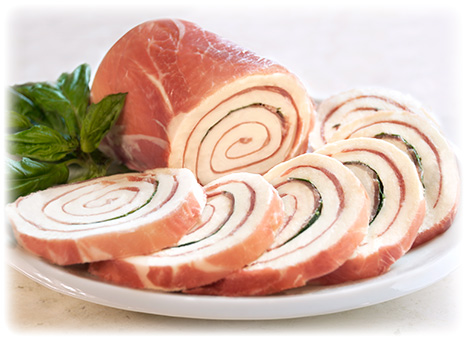 Our Fresh Mozzarella, Prosciutto and Basil Roll begins with our award-winning Fresh Mozzarella crafted from fresh local milk gathered only a few hours after milking. Our Master Cheesemakers hand roll each Fresh Mozzarella sheet with the finest prosciutto and fresh basil leaves, creating a unique cheese with a mouth-watering, savory flavor.
How to Enjoy This Cheese
Slice into 1/4″ slices and serve as an appetizer or snack.
About This Cheese
Texture: Semi-soft
Flavor: Milky Fresh Mozzarella combined with sweet, salty prosciutto and delicate basil
Appearance: Porcelain white cheese wrapped with prosciutto and fresh basil leaves
Milk Source: Pasteurized cow's milk
Aging: Fresh
Gluten free
rBST free
Crafted in Wisconsin, America's Dairyland
Pair with tomatoes, roasted peppers, olives, melon and light wine.
Ingredients
Fresh Mozzarella cheese (pasteurized milk, vinegar, enzymes, salt), prosciutto (pork, sea salt), basil.
Awards
2019 - U.S. Championship Cheese Contest (3rd Place)
2016, 2012 - World Championship Cheese Contest (1st Place) Best of Class
2012, 2008 - American Cheese Society (1st Place) Best of Class
2012 - Wisconsin State Fair Cheese & Butter Contest (1st Place) Blue Ribbon
2009 - American Cheese Society (2nd Place)
2008 - American Cheese Society (1st Place) Best of Class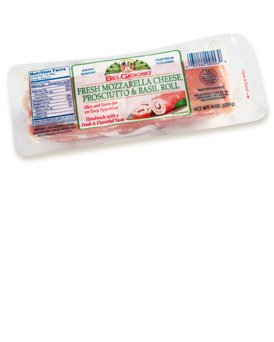 Fresh Mozzarella, Prosciutto and Basil Roll Recipes