Summer Panzanella Burrata Bowl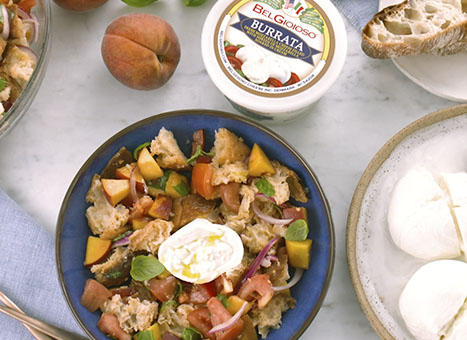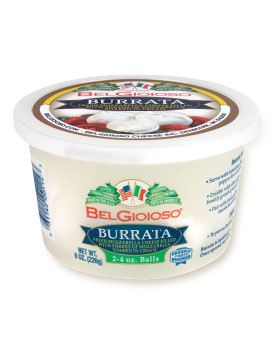 Ingredients
1 12 oz. loaf ciabatta bread, cut into 1-inch-thick slices
1 clove garlic, cut in half
1/2 cup olive oil, plus more for drizzling
1/4 cup white balsamic vinegar
Pinch of crushed red pepper flakes
Kosher salt and freshly ground black pepper
1 1/2 lbs. tomatoes, cut into bite-sized pieces
1 1/2 lbs. peaches, cut into bite-sized pieces
1/2 red onion, thiny sliced
1 1/2 cups fresh basil leaves, roughly chopped
Four 4 oz. balls BelGioioso Burrata cheese, halved
Directions
Recipe courtesy of Food Network Kitchen
Preheat oven to 425°F
Arrange the bread slices on a baking sheet in a single layer. Bake until dried out and golden around the edges, about 7 minutes. When cool enough to handle, rub both sides of each slice with the cut side of the garlic clove.
Whisk together the oil, vinegar, red pepper flakes, 3/4 tsp. salt and several grinds of black pepper in a large serving bowl until combined. Toss in the tomatoes, peaches and onion, then set aside to marinate for 10 minutes.
Tear the bread into bite-sized pieces, add them to the bowl and toss to coat. Add them to the bowl and toss to coat. Add the basil, salt, and black pepper to taste. Cover and let sit until the bread is softened and the flavors marry, at least 30 minutes and up to 3 hours.
Divide the panzanella among 8 bowls and top each with half a ball of Burrata. Drizzle with olive oil and serve immediately.
Ingredients
1 12 oz. loaf ciabatta bread, cut into 1-inch-thick slices
1 clove garlic, cut in half
1/2 cup olive oil, plus more for drizzling
1/4 cup white balsamic vinegar
Pinch of crushed red pepper flakes
Kosher salt and freshly ground black pepper
1 1/2 lbs. tomatoes, cut into bite-sized pieces
1 1/2 lbs. peaches, cut into bite-sized pieces
1/2 red onion, thiny sliced
1 1/2 cups fresh basil leaves, roughly chopped
Four 4 oz. balls BelGioioso Burrata cheese, halved