Cheesy Crostini with Peaches & Steak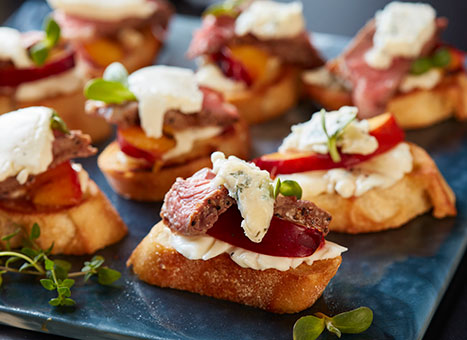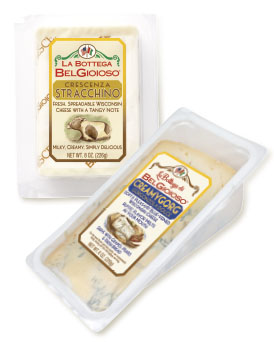 Ingredients
1 baguette or demi-baguette, sliced
1/4 cup extra virgin olive oil
1 garlic clove
1 yellow peach, thinly sliced
1/2-3/4 lb. New York Strip steak
BelGioioso La Bottega CreamyGorg® cheese
BelGioioso La Bottega Crescenza-Stracchino™ cheese
Microgreens
Salt and pepper to taste
Directions
Preheat oven 400F.
In a sheet tray or baking pan lay the cut baguette into one layer. Drizzle or brush olive oil on both sides of the bread. Place in oven and cook until lightly golden brown, about 6-8minutes.
Remove from oven and while hot sprinkle with salt and rub with garlic clove. Set aside until ready to serve.
In a cast-iron pan or grill over medium heat add 1 teaspoon of olive oil. Once hot add the peach slices and cook until lightly charred on both sides, about 2-3minutes per side. Remove to a paper-lined plate and set aside. Keep the cast-iron pan on heat.
Generously season the NY strip on all sides with black pepper and salt. Add 1 tablespoon of olive oil to the cast iron pan. Once hot add the steak and cook without moving until golden crust forms and to desired doneness, 3-4 minutes per side for medium-rare. Remove from plate and let rest for about 6 minutes. Thinly slice steak against the grain with a serrated or sharp knife about ¼-inch thick.
To plate: top toasted bread with either BelGioioso CreamyGorg® or BelGioioso Crescenza-Stracchino™ cheese, then peach slices, thinly sliced steak, more cheese and microgreens.
Ingredients
1 baguette or demi-baguette, sliced
1/4 cup extra virgin olive oil
1 garlic clove
1 yellow peach, thinly sliced
1/2-3/4 lb. New York Strip steak
BelGioioso La Bottega CreamyGorg® cheese
BelGioioso La Bottega Crescenza-Stracchino™ cheese
Microgreens
Salt and pepper to taste