Heirloom Tomato Galette with Burrata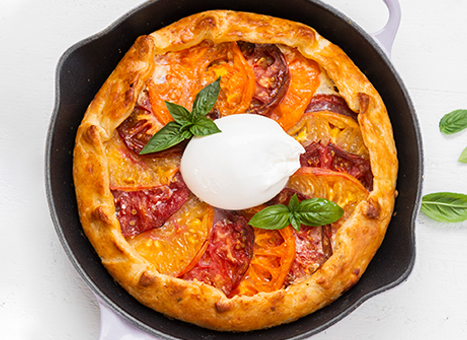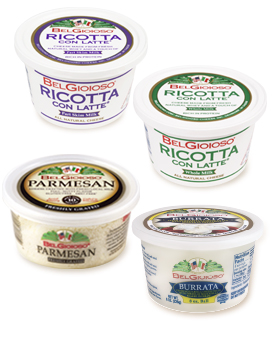 Ingredients
Crust
2 cups all purpose flour
1 tsp. salt
1 Tbsp. fresh thyme leaves
2 Tbsp. grated BelGioioso Parmesan cheese
1 1/2 sticks unsalted butter, frozen, then grated
4-6 Tbsp. iced vodka
Filling
1 cup BelGioioso Ricotta con Latte® cheese
1/4 cup grated BelGioioso Parmesan cheese
1 egg
1/2 tsp. honey
1/4 cup chopped fresh basil
Salt and pepper, to taste
Red pepper flakes, to taste
For Assembly
4-5 heirloom tomatoes, sliced 1/4 inch thick
Flaky salt and freshly ground black pepper
1 egg, beaten
1 8 oz. ball BelGioioso Burrata, for serving
Directions
To make the crust, add the flour, salt, thyme and grated parmesan cheese to a large mixing bowl and stir to combine. Add the grated butter and work the mixture together with your fingers until all of the butter is coated with flour and the butter has been worked into pea-sized clumps.
Drizzle the vodka over the flour mixture one tablespoon at a time, and stir with a fork until it begins to come together. Gather the dough into a large disc and wrap in plastic wrap. Let chill in the fridge for at least 30 minutes.
Meanwhile, make the ricotta filling by adding all of the ingredients to a large bowl and mixing with a fork until combined.
While the tart dough chills, add the sliced tomatoes to a colander set over a bowl to drain off some of the moisture.
When the tart dough had chilled, preheat the oven to 425˚F. On a lightly floured surface, roll out the dough to ¼ inch thick circle about 14 inches in diameter. Transfer the dough to a 10 inch cast iron skillet, making sure to tuck the crust all the way into the bottom of the skillet.
Let the crust hang over the edge, then spread the ricotta filling on the bottom of the crust. Arrange the heirloom tomatoes on top of the ricotta in a concentric circle, then season with flaky salt and freshly ground black pepper. Fold the edges of the crust over the tomatoes, then brush the edges of the crust with the beaten egg.
Place in the oven and bake for about 40 minutes, or until the edges are golden brown. Let sit for about 10 minutes to allow the juices to settle, then top with fresh burrata, slice and serve.
Ingredients
Crust
2 cups all purpose flour
1 tsp. salt
1 Tbsp. fresh thyme leaves
2 Tbsp. grated BelGioioso Parmesan cheese
1 1/2 sticks unsalted butter, frozen, then grated
4-6 Tbsp. iced vodka
Filling
1 cup BelGioioso Ricotta con Latte® cheese
1/4 cup grated BelGioioso Parmesan cheese
1 egg
1/2 tsp. honey
1/4 cup chopped fresh basil
Salt and pepper, to taste
Red pepper flakes, to taste
For Assembly
4-5 heirloom tomatoes, sliced 1/4 inch thick
Flaky salt and freshly ground black pepper
1 egg, beaten
1 8 oz. ball BelGioioso Burrata, for serving